Read time:

9

min
I remember showing up to my first college class, thrilled beyond belief at starting this new chapter in my life, and then the dread that came with a sudden realization: I didn't know anyone in that classroom. Would they be nice? Did I look friendly enough? Were they interested in what I had to say?
It felt dramatic at the time, but in hindsight, I understand I was looking for something that's tied to our very human nature: finding a community. "The need to belong is a fundamental human motivation," says Dr. Maithreyi Gopalan, an assistant professor of education and public policy at Penn State in University Park.
Unfortunately, there's no guidebook on how to connect with others. Intimidating? Maybe. Impossible? No way. Finding your people requires you to put yourself out there, but the reward of getting to be fully yourself with people you vibe with is so worth it. 

People search for communities that align with various aspects of their identity every single day. It's why you spend hours watching TikToks on your "For You" page and scrolling through posts on Instagram. As a student, the search for community might look like joining a club, playing with an intramural team, or putting together a study group with friends. 
But why do we have this drive to be part of a larger community? And why does it matter?
Feeling socially connected is tied to your physical and mental health, according to a 2020 study published in SSM—Population Health. People with a stronger sense of connection to their community also reported better health compared to those who said they had a weak sense of belonging. It's good for your grades, too: A study published in 2020 in Science Advances found that a stronger sense of belonging is associated with a higher GPA and a greater likelihood of completing your degree.
"In a whole line of studies, we find that college students who feel more belonging to their campus are able to stay resilient to the barriers all students face during an important transition in life," says Dr. Gopalan. "They are able to seek mentorship, feel more academically and socially integrated, and therefore perform better and stay enrolled."
The progression of the COVID-19 pandemic is having an impact on mental health, and students are reporting lower feelings of belonging than in previous years. Comparing data from November 2019 to May 2020 (before and after the COVID-19 pandemic began), a 2022 study found that while virtual learning may have provided a buffer and safer environment for students belonging to marginalized populations (e.g., LGBTQ+, first-generation students), they still reported a significantly lower sense of belonging than their peers.

When I was in college, I tried out lots of different organizations; with each one that didn't work out, I found myself getting more and more dejected. But when I finally connected with a group in my second semester, it was a huge weight off my shoulders, and I found college life to be much more enjoyable.
If you feel like you're in the same boat, don't worry. There are lots of ways you can go about building your community. Remember that patience and optimism are key; it may take time and trying many different things to build a sense of connection with new groups or people.
Check out campus events
Universities organize tons of events every year, most led by different student organizations looking to grow and add to their membership. "Find a student organization or two that you are interested in and engage," says Anthony H., a fourth-year student at Metropolitan State University in Denver, Colorado. "Having a common interest to anchor yourself is a good start."
When you find an event you like, show up for a bit. If it's not your vibe, feel free to excuse yourself. (I usually came prepared with the "I have to study for a class" phrase because leaving an event early always felt awkward to me.)
Start with a shared identity
For many of us, college exposes us to a more diverse range of people than we may have encountered growing up. It can be overwhelming, but one place you can start is by looking for people who share your identity. These can be those traditional identifiers—being a person of color, a member of the LGBTQ+ community, a science major— but it can also be about more specific interests. Some aspects of identity to think about are:
Cultural identity (e.g., nationality, ethnicity, religion)

Personal interests (e.g., Spanish literature, politics, stand-up comedians)

Hobbies (e.g., drawing, jigsaw puzzles, running)
Visit student resource offices
If you're having a hard time navigating the different options, visit student resource offices. They can point you toward events and organizations related to their offices and might be able to arrange one-on-one meetings with students who have similar passions.
Recreation or fitness center

Academic success center (talk to a peer mentor for ideas on getting involved)
You can also reach out to the faculty you see every day. "Go to office hours and interact with your professors," says Greta J., a graduate student at The College of St. Scholastica in Duluth, Minnesota. "Asking questions and getting to know them as people has helped me feel connected to them and thus the campus."
Make use of virtual avenues
Generating a community is challenging, and the pandemic has made it even more so. The good thing is that in addition to classes and meetings going online, other opportunities are also now more accessible virtually, such as: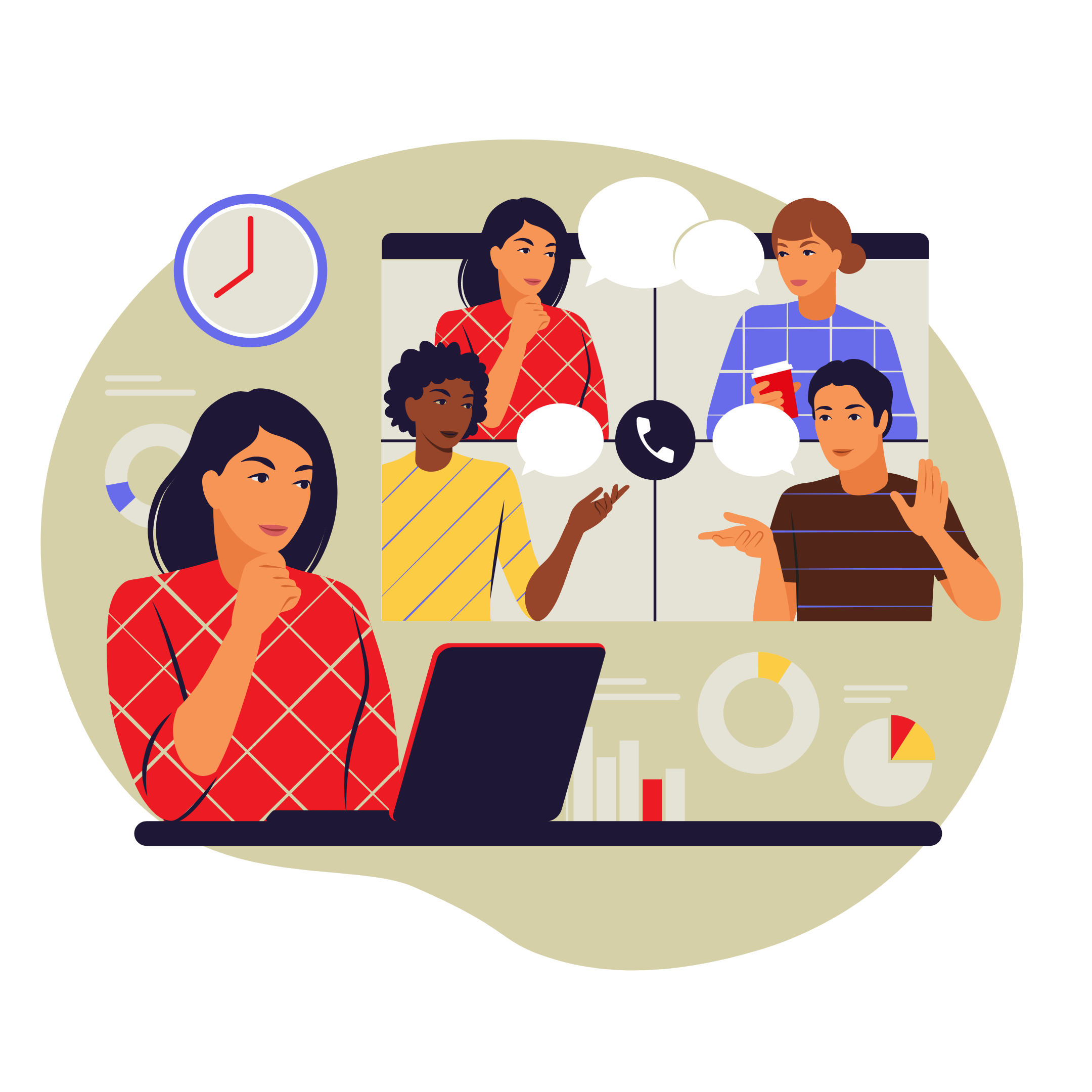 Online book clubs

Game nights (virtual tabletop RPGs, Jackbox TV, video games, etc.)

Virtual movie nights using group streaming features

Study groups

Community action events
"Virtual events add so much convenience," says Melania B., a second-year student at Glendale Community College in California. "There is no commute and these events can provide a more comfortable and pleasant experience for people who have social anxiety."
Get familiar with the community
It's easy to get wrapped up in the campus microcosm, but don't forget that the surrounding city is part of your community, too.
Local restaurants

Nonprofits you can volunteer with

Dog parks (if you have a dog—or even if you don't)

Movie theaters (I made a good friend in college waiting in line for an early showing of a Marvel movie)

Museums

Botanical gardens

Open-mic nights at the cafe or library

Faith-based organizations
Know that you're connected to a community of people feeling the same as you
It's good to actively try to establish your community, but you never know when a connection will spark. So stay open to new opportunities. "Know that you are not alone in facing the challenges of navigating college and that, with time, it gets infinitely better," says Dr. Gopalan. "Stay enrolled and engaged, and build communities that you are proud to belong to and feel a part of."
UA- Little Rock Resources
GET HELP OR FIND OUT MORE
Article sources
Maithreyi Gopalan, PhD, assistant professor of education and public policy, Pennsylvania State University, University Park, Pennsylvania.
BAME Awarding Gap Project. (2020). Creating a sense of belonging for your students. University College London. https://www.ucl.ac.uk/teaching-learning/publications/2020/apr/creating-sense-belonging-your-students 
Center for Excellence in Learning and Teaching. (n.d.). Foster a sense of belonging. Iowa State University: Center for Excellence in Learning and Teaching. https://www.celt.iastate.edu/teaching/creating-an-inclusive-classroom/sense-of-belonging/ 
Fruehwirth, J. C., Biswas, S., & Perreira, K. M. (2021). The COVID-19 pandemic and mental health of first-year college students: Examining the effect of COVID-19 stressors using longitudinal data. PloS One, 16(3). https://doi.org/10.1371/journal.pone.0247999 
Gopalan, M., Linden-Carmichael, A., & Lanza, S. (2021). College students' sense of belonging and mental health amidst the COVID-19 pandemic. Journal of Adolescent Health, 70(2), 228–233. https://doi.org/10.1016/j.jadohealth.2021.10.010 
Johnson, E. (2020, January 2). Students' sense of belonging varies by identity, institution. Inside Higher Ed. https://www.insidehighered.com/news/2020/01/02/minority-students-sense-place-higher-two-year-four-year-institutions 
Michalski, C. A., Diemert, L. M., Helliwell, J. F., Goel, V., et al. (2020). Relationship between sense of community belonging and self-rated health across life stages. SSM—Population Health, 12. https://doi.org/10.1016/j.ssmph.2020.100676 
Murphy, M. C., Gopalan, M., Carter, E. R., Emerson, K., et al. (2020). A customized belonging intervention improves retention of socially disadvantaged students at a broad-access university. Science Advances, 6(29). https://doi.org/10.1126/sciadv.aba4677 
Patterson, R. (2021, September 10). How to make friends in college: A comprehensive guide. College Info Geek. https://collegeinfogeek.com/make-friends-college/ 
Scogin, S. C., Austin, M., Alexander, C., Mader, C., et al. (2020). Supporting students from day 1 of college: The importance of relatedness to inclusivity. Journal of Microbiology & Biology Education, 21(2). https://doi.org/10.1128/jmbe.v21i2.2015 
Shorelight Team. (2021, August 31). How to make friends in college: Tips for international students. Shorelight. https://shorelight.com/student-stories/how-to-make-friends-in-college-tips-for-international-students/ 
Supiano, B. (2018, April 14). How colleges can cultivate students' sense of belonging. Chronicle of Higher Education. https://www.chronicle.com/article/how-colleges-can-cultivate-students-sense-of-belonging/ 
University of the People. (n.d.). How to make friends online. https://www.uopeople.edu/blog/how-to-make-friends-online/